Official CESAR Scheme
Plant and agricultural machinery theft is an estimated £1 million a week headache for the construction & agricultural industry and its insurers.*


The CESAR Scheme was established in 2008 and the industry has united behind this official construction and agricultural equipment security and registration scheme - the premier initiative to combat equipment theft.


To combat theft and aid recovery CESAR combines:
State of the art Datatag ID technology
Overt and covert deterrents
A low one off cost to protect your machine for life
A secure and accredited dedicated 24/7 UK Secure Contact Centre


The triangular CESAR registration plate has become the industry standard identification mark with support from local authorities, leading contractors, the farming community, hire companies, the police, insurers and finance companies.


The Construction Equipment Association (CEA) and the Agricultural Engineers Association (AEA) fully support the scheme along with other stakeholders including: Leading equipment manufacturers, importers and dealers, The Home Office, The police, Plant hire companies, Trade associations, Major insurers.


The chosen delivery partner for the official CESAR Scheme is Datatag ID Ltd.
approximate figure's
CESAR - A unique layered approach to crime prevention and asset identification
PlantWorx 2023
Datatag ID the power behind the official CESAR Scheme will exhibit at PlantWorx 2023 on stand B-DB1 & D-DB2 on the 13 - 15 June 2023 at East of England Arena & Events Centre, Peterborough.
Recent Recovery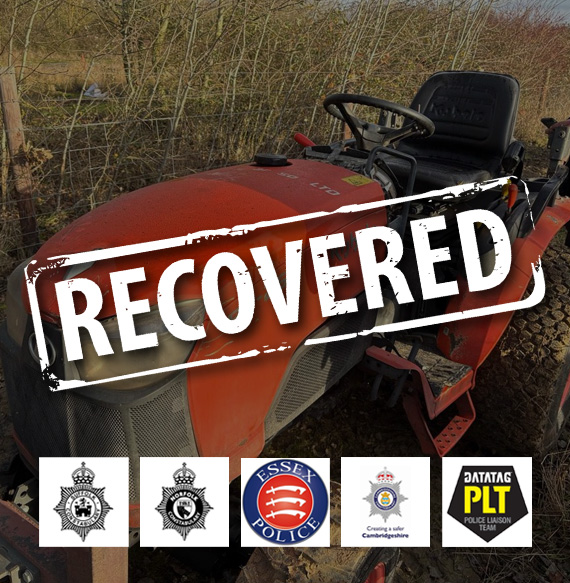 STOLEN EXCAVATOR WORTH £19,000 RECOVERED
Cheshire Police Rural Crime Team and Congleton Police recover stolen plant equipment, highlighting the importance of CESAR marking scheme. The Cheshire Police Rural Crime Team recently celebrated the recovery and reunion of a stolen excavator with its rightful owner.
Read More
---
Other Recoveries / Identified
Featured Article of the Month
Previous Featured Articles
The Construction & Agricultural Equipment Security and Registration Scheme